In everyday business meetings, it is not only important that everyone involved is in time and well prepared. It is also very important that discussed topics from within the meetings remain comprehensible for others at later points in time. The classic method of choice for this is taking minutes or notes. Generally speaking: Meeting Minutes. A simple topic, which can sometimes be underestimated. A lot of people think that the most important thing is to simply start taking minutes.
But taking minutes is not always easy. For example, we have heard the following problems from customers:
Nobody wants to take notes for everyone or be the keeper of minutes.
When you are taking notes, it is hard to listen at the same time.
The meeting minutes are incomplete. Whole topics are missing.
You wanted to write the minutes right after the meeting, but something came up.
The minutes are not sent out until days after the meeting.
Meeting Minutes are not read.
Not everyone got the minutes or there are different versions.
A lot was said in the meeting but now nobody does what was discussed.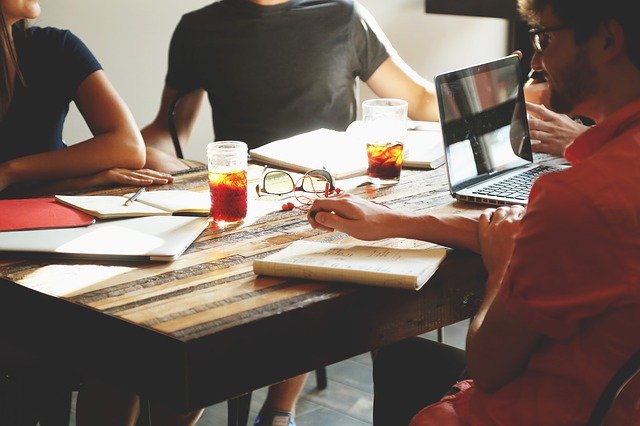 There are clear methods that can remedy this. One of them is Public Note-Taking. An intuitive method that can be easily implemented with Confluence.
What is Public Note-Taking?
Public Note-Taking is a method we suggest to some clients who are thinking about working with Confluence anyway. The reason is simple: You can easily do this without any further setup in Confluence. Even if you don't use Confluence at all, you can do it exclusively for that. Also, the method is very adaptable, so you can tailor it to your own needs.
The method is easy to implement. Instead of having one person sit silently in the corner and take notes, the minutes are written publicly in the meeting. The results are Meeting Minutes that all stakeholders agree with. The minutes are not only seen as documentation, but become an integral part of the meeting, which can also be actively addressed.
While Public Note-Taking can also be done on a flipchart or whiteboard, for example, we recommend doing it digitally in Confluence. Here, the screen of the device is transmitted by the minute taker with the beamer or similar. It is possible to read the protocol at any time. So it is visible for everyone what contents are included in the protocol and additions can be requested. With the functions of Confluence and Atlassian, tasks resulting from what has been said can be assigned directly to people.
Tip: Write the agenda for a meeting in Confluence so that it can be oriented and referenced.
At the end of the meeting, all you need to do is save the minutes. This makes it available to everyone in Confluence. If subsequent additions or changes are necessary, they can be tracked, the updates are visible to everyone and a notifications about them are sent. The Meeting Minutes can also be linked directly in further notes or transcripts.
What can you gain from this?
Many customers have integrated their variant of Public Note Taking into their daily meeting routine and could assume benefits from it:
Taking minutes makes sense again and does not drag anyone out of the meeting. – More attention for content and speakers.
No more content is forgotten in minutes. – Participants point out missing points during the public note-taking.
The minutes are available directly after the meeting or, if required, during the meeting to all authorized persons. – Access to minutes directly in Confluence.
Meeting Minutes are immediately stored correctly and the system can be searched for content.- No long waits on sending the minutes.
What is said is not only recorded but also implemented. – Action items are formulated directly in Confluence and transferred to connected systems like Jira if required.
If you want to learn more about Public Note-Taking, Confluence or other methods and solutions, please contact us. In a non-binding initial consultation, we will give you first tips and advise you on how to proceed – individually tailored to your needs. With systems that adapt to you – not vice versa.
Honicon helps you: