Trello is a tool for visualizing various contents. It is also provided free of charge and is therefore known across industries. It can be used on the computer via browser or smartphone on- and offline.
Content is organized within Trello in boards, lists and individual cards. This way, for example, an overview of tasks can be created and together more productivity can be achieved.
A single card can be used universally to represent abstract or real content. By assigning it to a list on a board, for example, a process is mapped or an internal model is represented. Trello can be adjusted individually.
Adapt your Trello flexibly to your needs
The possible applications of Trello are countless. To name a few examples, here are a few possible applications of the boards:
simply structure your ideas with boards
clearly sort application candidates
present organization charts or sprint teams in a comprehensible way
visually track roadmaps and projects
moderate or prepare long meetings digitally
and much more…
The universal application of the tool is mainly based on the fact that there is no optimal way of using it. There are no limits to the creativity to get more out of existing competences.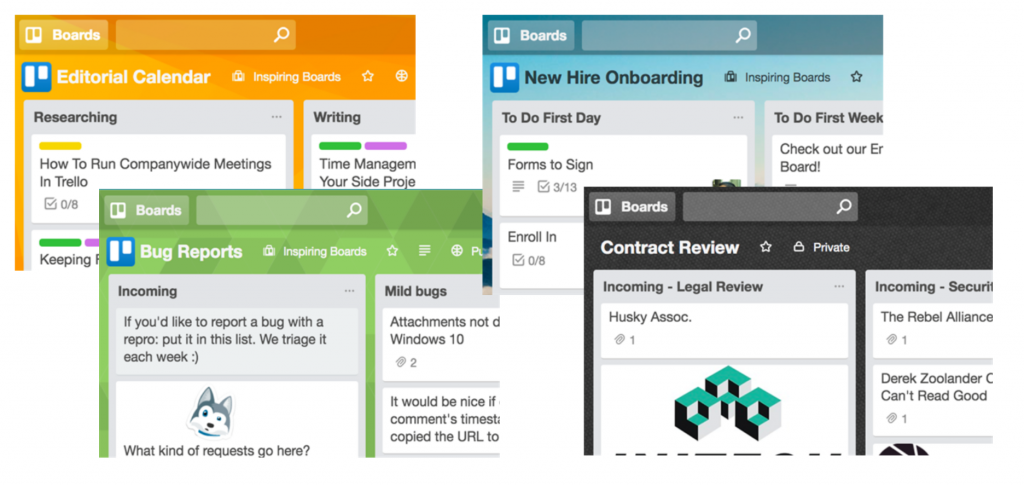 Trello is already fun in the free version, but with a little investment in the right places, much more is possible.
In addition to creating more boards and enabling various integrations for them, much can be achieved in the areas of automation and security.
For example, a simple notification by e-mail or setting permissions for boards or individual members can make for more effectiveness.
Where the boards reach their limits, Jira can help. While Trello mainly focuses on visualization and collaboration, Jira offers this and more: mapping real workflows.
With Jira you get the possibility to pour your processes into a system that also knows how to deal with approvals, responsibilities and interdisciplinary requirements. You do not have to do without the advantages of Trello. The two platforms of Atlassian interact smoothly with each other. A lot can be achieved by integrating additional add-ons.
We will help you to get more out of Trello or advise you in your further development to Atlassian Jira!