The Atlassian software Confluence is also suitable as an intranet, in addition to other application purposes; from project-accompanying document management to centralized wiki to a comprehensive collaboration platform. The use as an intranet – or more precisely intranet portal, i.e. the organizational contact point for internal information – is logical. Not least if Jira is already in use in the company and synergy effects can be achieved. This article is intended to serve as an introductory guide. Since, of course, not all points can be covered here, we provide the first orientation aids.
The appropriate structure for exchanging information
In general, an intranet represents the first stage for structured knowledge management in the form of exchanging information. Content is made traceable and can be looked up as needed, but the portal is not yet indispensable.
It is crucial that content is not simply dumped and forgotten, but neatly filed. For this purpose, a structure should be considered that follows an idea which all users can understand: e.g., the division of the areas according to departments. Confluence automatically takes care of the hierarchical structure of the pages. As a rule of thumb, start with 5 to 7 important, public spaces, each with no more than 3 to 4 sub-levels.
Furthermore, responsibilities should be considered in addition to the structure. The publishing of a content should already be accompanied by an awareness of the later maintenance of the content. This can extend, for example, to the publishing person or the team in whose space the content was published in.
The considerations around the structure should not be a blocker. More important than a fully thought-out structure is the content and that this is shared in Confluence. If something has been mistakenly classified, a page and all its sub-pages can be moved to the correct place with just a few clicks.
Regardless of the considered structure, it should not be forgotten that Confluence comes with a powerful search. Although this is not as intuitive as that of a well-known search engine, for example, it is still very extensive. It is important to make sure that the users of Confluence know how to use the (advanced) search.
Did you know? Confluence searches not only its own pages, but also attachments such as Word or PDF documents.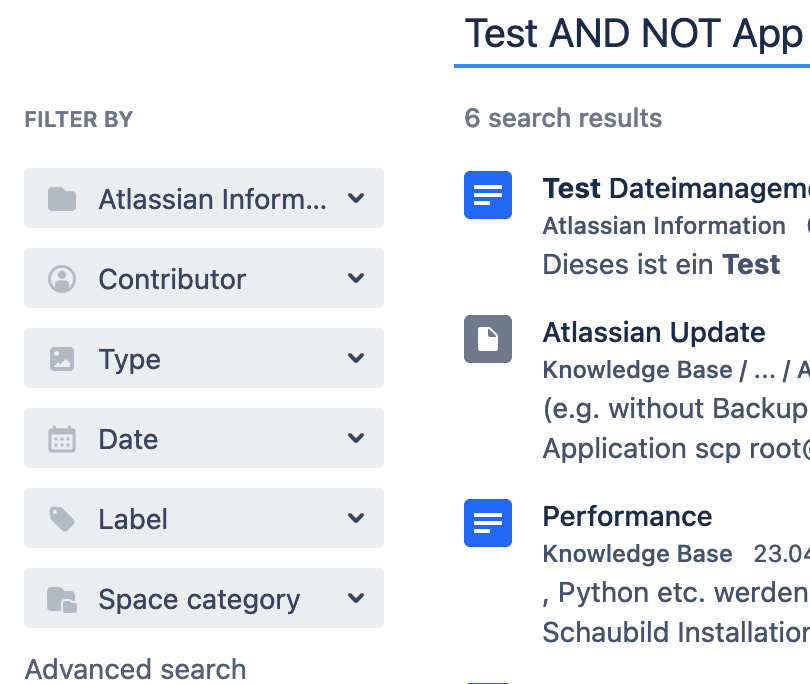 Use templates for a clutter-free presentation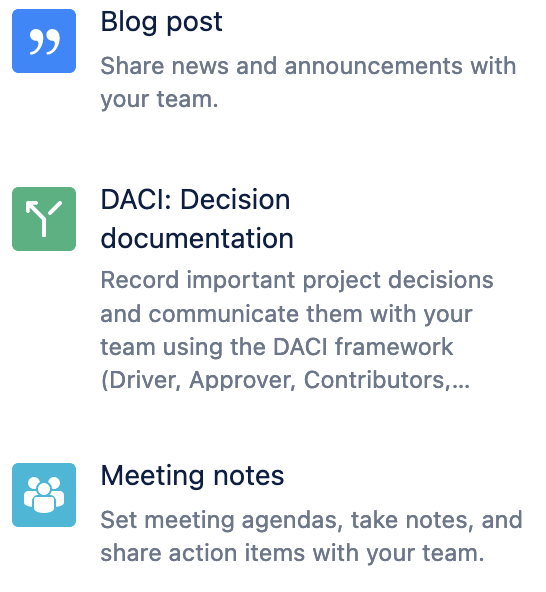 Confluence comes with various templates (also called blueprints) for pages. These can serve as orientation for users to create new content. This prevents each page from looking different and allows a uniform appearance to be achieved. However, the templates provided by Atlassian are usually in English. So, if necessary, the templates have to be adapted or you can be inspired by them to create your own.
Creating your own templates is very useful. This can be used to establish and control corporate standards. For example, placeholders for images etc. can be provided for how-to articles to emphasize their multimedial approach.
Furthermore, it is possible to restrict templates to certain spaces This avoids IT-specific ones not being used in the marketing space and users are not overwhelmed by a flood of templates when they want to create a new page.
Recommended apps for the intranet with Confluence
If you use Confluence as standard, sooner or later you will encounter requirements that you may not be able to meet. In such a case, an app can help – here are our two recommendations if you plan to use Confluence as an intranet.
Refined for Confluence
The app allows the design of Confluence to be customized on a grand scale. With the help of included themes, Confluence presents itself in a new look. Refined also offers functional possibilities, such as structuring Confluence into custom categories.
Additionally, Refined comes with a suitable app to facilitate the design in Jira Service Managenent. Refined for Jira is therefore perfectly suited if you want to offer a service portal with internal or external customers in parallel to Confluence. For example, in the context of identity management.
Scroll Viewport
This is a powerful tool that can be used on a small scale or influence Confluence to such an extent that it would be unrecognizable. Thus, it would be feasible to build a complete web presence with Scroll Viewport.
You can start with a provided theme or use CSS to create your own individualizations – in Data Center even entirely with Velocity, HTML and JavaScript. This makes it possible to make the same content available across different (sub-)domains in different designs.