BigPicture is just one of several products from SoftwarePlant, but it is the most popular. SoftwarePlant is a company that specializes in solutions for Jira-related software, but also in standalone software. Founded in 2015, the Warsaw-based company offers BigPicture, which is one of the most popular or best apps for project management in Jira. The other plugins can be considered as an addition (BigTemplate), extension (BigPicture Enterprise) or subset (BigGantt). For the visual productivity tool Trello, BigPicture can be used as a separate power-up – in this case even free of charge.
Project Management with BigGantt, BigPicture, BigTemplate & BigPicture Enterprise from SoftwarePlant
With its software solutions, SoftwarePlant has set itself the goal of advancing digital transformation through the use of technologies and thus enabling forward-thinking companies to create more efficient process landscapes without forgetting people – similar to Honicon.
At the same time, it does not emphasize or specialize in a single methodology, such as PRINCE2 or SAFe, but rather enables an approach that is always tailored to the individual organisation. At the same time, however, the solutions are developed in such a way that the methods mentioned can also be implemented.
BigPicture – Project management on a grand scale
SoftwarePlant's flagship product BigPicture allows you to visualize and manage activities from Jira. Existing data can be enriched with further information and aggregated – the app thus works directly on or more precisely with the data from Jira. Both the visualization and the enrichment of data is done on the basis of boxes. A box serves as a representation of an entity from the respective project environment. For example, a box can represent a program, a project or a phase.
The hierarchical structure of the box provides a respective view with drill-down or drill-up for the respective management level.
Of course, there is the option of visualization in the form of a Gantt chart in the module of the same name. Project-relevant data can be processed live from Jira in order to illustrate progress made in the course of the project. The creation of scenarios additionally enables the representation and planning of changes due to opportunities and risks. The latter can be monitored in the tool in the same way as goals and quality. The app comes with boards for the agile project approach – even if Jira software is not otherwise deployed in the company.
BigPicture still allows the management of resources on a time basis – even with an direct connection to Tempo.

BigPicture Enterprise – scale your project management further
BigPicture Enterprise is effectively an extension of BigPicture. In fact, the app for Jira can only be used if BigPicture itself is also used. Basically, the extension is worthwhile when there is a need for more customization or more scenarios. This allows the tool to scale with the project management environment.
Specifically, the Enterprise version additionally brings unlimited box types to the otherwise pre-configured three and unlocks the ability to design your own as well as rename certain elements in the app. This allows the tool to be even better adapted to the project environment. Other features include report customization and resource management.
BigGantt – Overview made easy

BitGantt can be seen as the little brother of BigPicture. The app offers parts of the modules of BigPicture with limited functionality. The app should be used, for example, if you want to manage individual projects, but not entire programs or several contiguous projects in Jira. In a slim interface, BigGantt primarily enables modules of the same name from BigPicture with a few restrictions as well as some reporting functionalities, but not as its own module.
BigTemplate – Exports from Jira and BigPicture

BigTemplate is, similar to Enterprise, an extension of BigPicture – but it can also be used separately. BigTemplate allows importing and exporting data to or from BigPicture or Jira. The app mainly covers typical data formats such as PDF or XLS (Excel) and others, but is also suitable for an exchange with Microsoft Project.
Apart from the export template provided by Jira, BigTemplate comes with attractive templates that can be customized or enriched with individual ones. This way, exports from Jira can be customized specifically for various intended uses.
If BigPicture is used, BigTemplate can also be used for exports from the respective modules. In this way, content from the projects and programs can also be made accessible to those who do not have or do not wish to have access to Jira.
BigPicture Certified Professional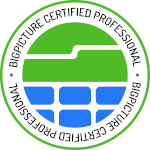 Honicon has already been working with the apps by SoftwarePlant in particular BigPicture for several years. We are also a certified partner since May 2021. Our employee Cornelius Gillner is recognized as a BigPicture Certified Professional. The certification ensures a lively exchange between SoftwarePlant and the certified company or person – this way we can offer our customers an up-to-date knowledge. To maintain certification, expertise must be refreshed and verified at regular intervals.