Especially in the modern, connected world, it is important to provide content not only in the local language – multilingualism has become an expected standard. Translations of some important elements have been possible in Jira for quite some time. For example, it was easy to provide globally used names of statuses, solutions, priorities and task types in multiple languages. But even if one used these existing possibilities, there often remained small things that were only displayed in the language in which the system was originally installed.
However, since the release of Jira Service Desk 4.11 (renamed Jira Service Management as of version 4.14), it is now also possible to translate the service portal, i.e. various other elements: Request Types for customers, furthermore their labels, descriptions, fields and groups, as well as the customer portal itself and even the announcements and notifications. In this way, the service portals can be presented differently in several languages or regional nuances can be taken into account. So nothing stands in the way of a multilingual approach in Jira.
Language settings in the project settings
While in the past you might have used certain apps from the Atlassian Marketplace to translate Jira Service Management, this is now easily done via the familiar administration of Jira and is available without any additional installation.

The languages can be configured on a project basis, independently of each other. As can be seen in the screenshot above, more or less languages are possible than you would otherwise use elsewhere in the system. If you change something in the project, e.g. add a new request type, it becomes immediately clear that it still has to be translated. Until a language (e.g. German) is completely translated, you can use the slider to decide not to publish it. Likewise, a language can also be deactivated individually at a later date or temporarily.
Jira Service Mangement guides you through the translation for the respective language in the administration very clearly, in chart-like form. Each element is translated separately and can be adjusted. If one is forgotten, this is marked. This also influences whether the language as a whole is displayed as fully translated. It should be noted here that when adding a new language, it is not already machine translated. This means that all fields are empty at that point, which can mean a lot of work for larger service portals – so this is not a one-click solution to translate the customer portal to a language of choice.
How to set the language for customer notifications?
The language of the customer notifications, i.e. the emails that a customer receives from Jira or the Service Portal, can also be set. These also apply to the project directly not globally Here, however, the language nuances cannot be fully individualized. Instead, one relies predominantly on the translations provided by Atlassian.
In the screenshot to the right, you can see that while the content of the notification can be customized, there will be fragments where the translation is determined by Jira itself. These are simple things, such as "View request" but even here there may be situations where they want to be customized a bit more precisely in the context of a multi language environment.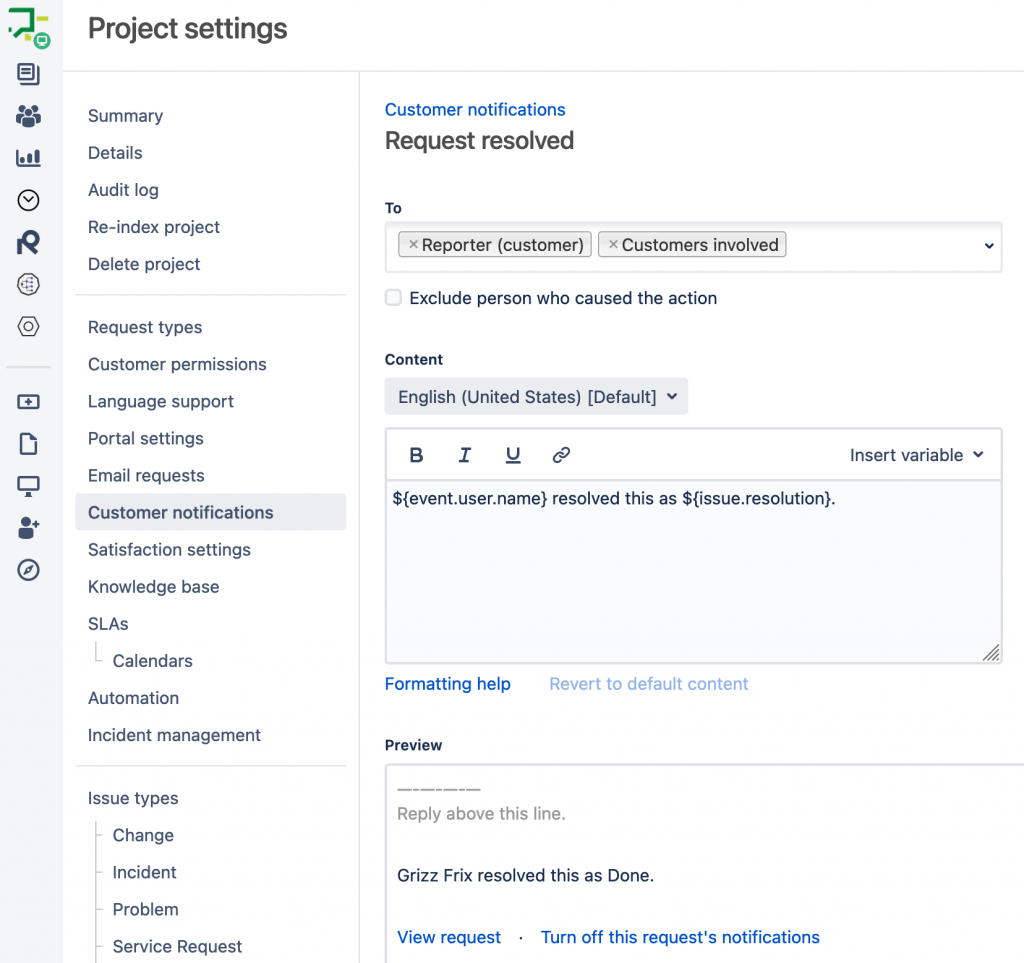 What language will a customer see?
When a user visits a service portal, the question arises as to which language applies for that person. If a customer has selected a language himself in his profile, this language is displayed. Otherwise, the standard of the respective project applies – both for the display in the service portal and the language of the notifications. These can even be set independently of each other. In our first screenshot, for example, this is English for the Service Portal, which is made clear by the tag with a gray background. It is not possible for customers to switch between the languages on the fly. They would have to change their language in the user profile each time.
Bottom Line
Multilingual support is a requirement that should be met and is now even easier thanks to the new functionalities in Jira Service Management. Instead of having to decide whether to provide a customer portal in German or English, it is now even possible to decide to also offer additional, relevant languages for a customer base, whether internal or external. Thanks to the small-step representation of translation options in Jira, it is also possible to address regional subtleties on the service portal in addition to multilingualism.
As Honicon, we recommend upgrading to the latest LTS (Long Term Support release) version of Jira Service Desk or Jira Service Management past version 4.11 – as of the publication of this post, that would be Jira Service Desk 4.13. That way, you can take advantage of the new but proven features. We would be happy to assist with an update.