In Jira, comments are used in different ways. For users, communication comes partly in the form of short status updates and goes all the way to extensive correspondence. In this blog post, we want to go into a selection of small but effective tips that simplify working with comments but are overlooked from time to time. In other articles, we've already covered comments via email or the use of emojis and emoticons.
The smallest tip beforehand: The keyboard shortcut to quickly get to writing a comment is the "m" key – m like memo.
Change the sort order of comments
In the standard of Jira, the order of the comments is preset so that the newest ones are at the bottom. This may be quite convenient, since you can still see the last comment while writing your own. For some people, however, it might be more logical if the most recent communication is always at the top and you don't have to scroll through all the posts to see the latest comment.
Each user can define the order for themselves. This can be done very easily with the arrow icon in the upper right corner of the activity display. However, this change only takes effect for each user individually and even for them not permanently.
Permanently and for all users, the order can also be set globally. To do this, go to "System > General configuration" and open the advanced settings of Jira. Here, the key "jira.issue.actions.order" can be changed from the default value "asc" to the value "desc" in order to always display the most recent comment at the top for all users.
Changing the setting applies to all sections of the activity display and thus not only to communication but also, for example, to the change history.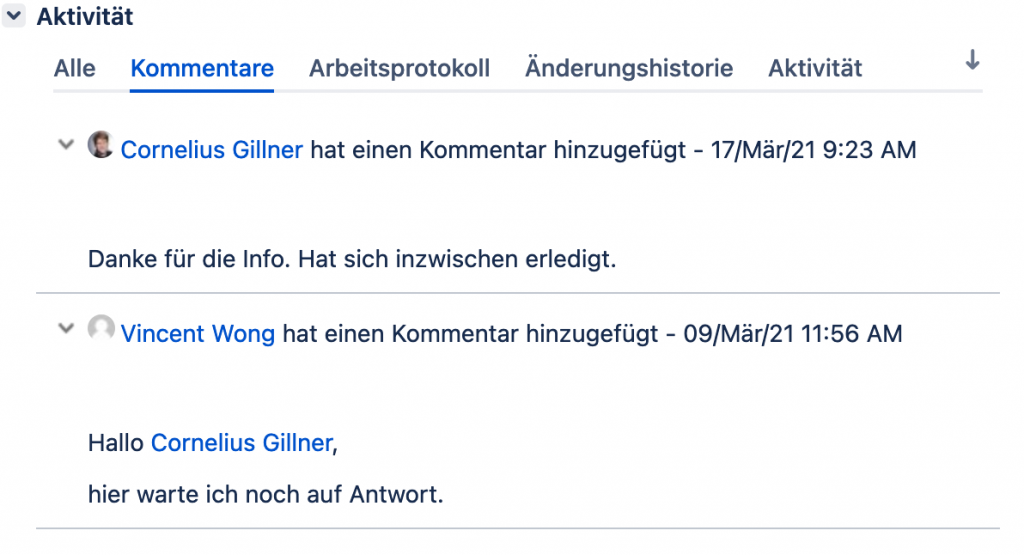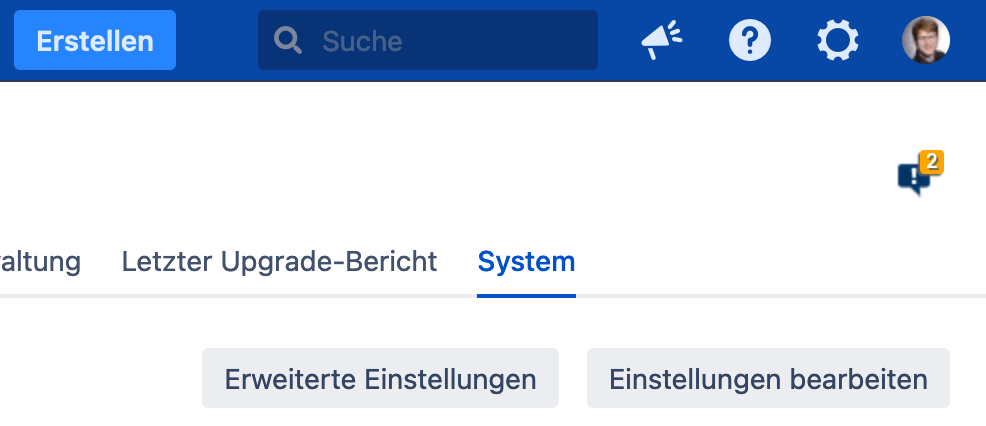 Save time in communication with predefined answers
One feature of Jira Service Management that is often overlooked is the Canned Responses. These allow you to prefabricate responses or save already typed comments for later, repeated use.
The canned responses can be enriched with automatically filled placeholders, in the canned responses no additions or corrections like XXcustomernameXX have to be made. After selecting a predefined response, the author immediately sees the filled content and not the placeholder itself.
Das Hinzufügen und auch das Verwalten der Musterantworten kann direkt im Kommentarfeld (siehe Pfeil) erledigt werden. Hier werden immer die oft genutzten angezeigt, wobei auch gesucht werden kann.
Aufgepasst: Die Musterantworten sind grundlegend für alle verfügbar. Hier sollte man also Acht darauf geben, dass nicht zu viel Unrat entsteht. Weiterhin ist zu erwähnen, dass Canned Responses nicht in Jira Software zur Verfügung stehen. Selbst wenn Jira Service Management mit auf der Instanz installiert sein sollte.
In Jira Cloud sind Musterantworten leider nicht verfügbar. Entsprechend werden Addons angeboten, die aber auch die Funktionalität in Data Center erweitern würden.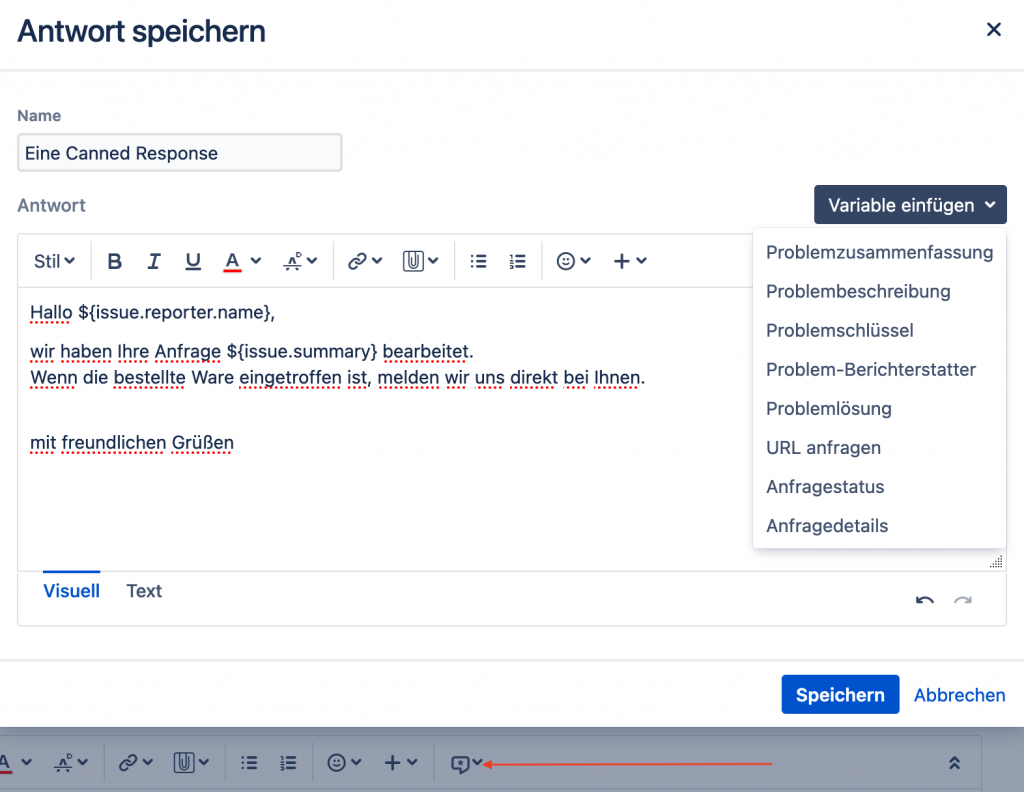 More Tips and Tricks
Working in Jira can become much more pleasant if you know the various functions of the comments. Without going into further depth here, we want to give some more tips:
With @-Mentioning, other users can be mentioned in comments without them having to read along everything from start to finish. This way, users can also only be involved whenever they are really needed.
Longer comments can be expanded or collapsed to get a quick overview.
You can generate direct links to individual comments. This is especially useful for threads that have been discussed for several weeks.
Now and then, problems with formatting can arise. Often these can be solved better in text mode than in visual mode.
There is a difference between a line break with "Enter" and one with "Shift + Enter".
With the further formatting options behind the plus symbol, comments can be structured in a brilliant way. For example, with code blocks, horizontal lines or panels.